**Viva Quetzal to brighten up the Wendell Full Moon Coffehouse**
Saturday, March 3, 2018 7:30 p.m.
To benefit The Community Network for Children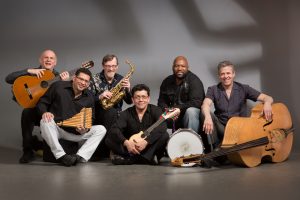 Don't miss this opportunity to see Viva Quetzal, a multicultural musical treasure! Viva Quetzal is a high-energy musical group, with members from North and South America, recorded by Putamayo and nationally revered! Performing an eclectic mixture of traditional South American folk and pop, the 7-member ensemble plays a fascinating array of over thirty instruments, including pan pipes, flute, saxophone, cuatro, charango, harmonica, congas, piano and more! Influenced by the music from members homelands of Venezuela, Cuba, Chile, and Panama. Viva Quetzal has toured extensively nationally, playing clubs, colleges, festivals, and Fine Arts Centers. The group has released three CD's: Ancestros (1995), Mujeres de la Puna (1998), and Hijos del Sol (Signature Sounds, 2000). They are included on Putamayo's release Music of the Andes (2014).
The musicians of Viva Quetzal include long time members Roberto Clavijo from Chile (vocals, pan pipes, charango, cuatro, harmonica), Abraham Sanchez from Venezuela (lead vocals, piano, percussion), Joe Belmont from USA (classical and electric guitar), Jon Weeks from USA (flute, sax, EWI, quena, congas), Rudi Weeks (acoustic/electric bass, vocals), Eliezer Martinez from Panama (drums) and special guest from Cuba, William Rodriguez Rodriguez (Congas, bongos, percussion).
Sliding scale cash fee at the door of just $6 – $15 beginning at 7:30 p.m with open mic performances.
For Open Mic sign-up, directions and further information
please visit our website: www.wendellfullmoon.org or call 978-544-8784.
The Wendell Full Moon Coffeehouse is located in Old Town Hall 6 Center Street, in the center of Wendell, MA., offering a lively night out for music, fun and dance; always in support of a good cause. Come experience the Valley's only Dessert-O-Rama in an affordable family-friendly venue