Saturday December 2, 2017 7:30pm
Sliding scale $6-$15
(978) 544 8784
To benefit the Friends of the MN Spear Memorial Library www.mnspear.org
What better way to kick off the holiday season than an evening of Jewish and Arabic music…and Belly Dancers!
Music transcends cultural differences and brings people together in joyful celebration.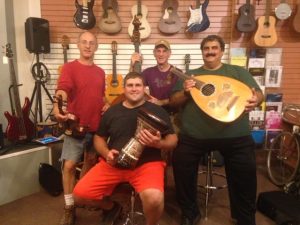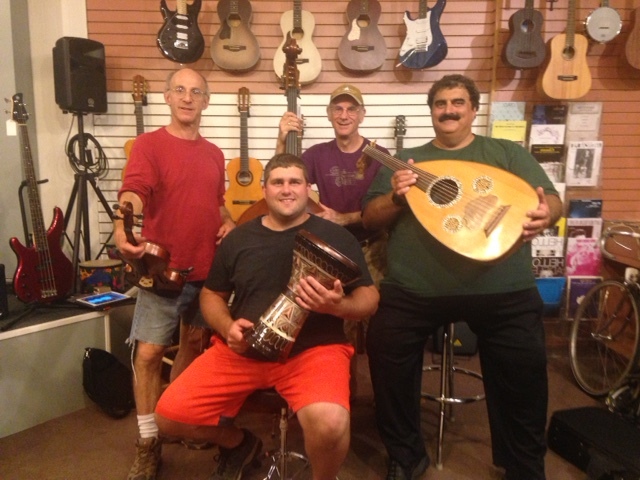 "Shalom" means "peace" in Hebrew and "Habibi" means "beloved" in Arabic. Take a magic carpet ride to a happier place with members of the Arabic ensemble Zay-Tunes and the band Klezamir along with the Crescent Dancers. While news of the day brings the Middle East into focus as a war-ravaged region of strife, it is also the birthplace of civilization having inspired some of the greatest works of art, music, literature, math and science. Making music together is one of the best things humans can do.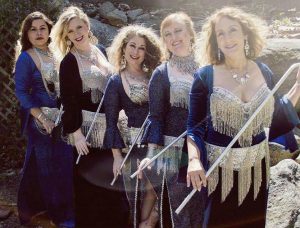 The Crescent Dancers, the Pioneer Valley's premiere Middle Eastern Dance troupe will dazzle and delight with American Cabaret style belly dance, then invite the audience to join in with easy to learn dance moves followed by a Wendell freestyle dance party.
Bob Davis of North Adams, MA, on oud and percussion has been playing Arabic music for parties, cultural events and belly dancers in the United States and in Lebanon for over forty years. For the past 18 years he has studied and performed at the Arabic Music Retreat at Mount Holyoke College and is the founder of Zay-Tunes.
Felicia Tzipora Sloin is a singer, creative artist and Jewish educator in Northampton, Ma who has worked previously with both Klezamir and Zay-Tunes. With a voice like an angel, she sings in Hebrew, Yiddish and Arabic.
Joe Blumenthal, owner of Downtown Sounds plays electric and string bass for Klezamir, Orkestar Banitsa, and Mando Paradiso, and tenor banjo with the Expandable Brass Band. Joe also leads the AEIOUkes.
Jim Armenti is a pillar of the Pioneer Valley music scene, best known as a member of The Lonesome Brothers and the Young at Heart Chorus. Jim also a member of Klezamir and teaches guitar mandolin, bass, clarinet, saxophone and ukele.
Dan Muscat lives in Amherst and plays viola and Kanun. He has studied and performed at the Arabic Music Retreat at Mt Holyoke College.
Amy Rose is a pianist, flutist, accordionist, teacher, band member and manager of Klezamir.
Matthew Davis and Keith Leverault on percussion
The Wendell Full Moon Coffeehouse, located at Wendell Old Town Hall in the center of Wendell, Ma offers a lively night out for music, fun and dance, always in support of a local service or environmental organization.. PLUS the legendary Dessert-O-Rama. Sign up for open mic www.wendellfullmoon.org