Saturday, Nov. 4, 2017 7:30 p.m.
$6 – $15 (978) 544-8784
To benefit the Friends of the Orange Public Library.
More information:
Shokazoba Funkestra at the Wendell Full Moon Coffeehouse 11/4/17
Join us for an amazing evening of concious fusion funk!
$6-$15; at the door. Proceeds will benefit the Friends of the Orange Public Library.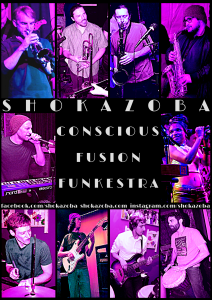 Shokazoba performs top quality, high energy music designed to move your feet, inspire your mind, and stimulate your soul. Hear their music at www.shokazoba.bandcamp.com.
The Wendell Full Moon Coffeehouse, located in Wendell Old Town Hall in the center of Wendell, MA., offers a lively night out for music, fun and dance; always in support of a good cause. Come also experience the Dessert-O-Rama (and other great snacks) in an affordable family-friendly venue.
The Shokazoba Funkestra began in 2005 in Northampton, MA as a Fela Kuti tribute project. They now produce original work aiming to inspire greater human awareness through conscious fusion funk with progressive topical lyrics. Voted "Best of the Valley" five times, nominated as "Best Live Act of the Year" by the New England Music Awards, and recognized with several honorable distinctions by the African Jazz Review.
Open Mic begins at 7:30. For Open Mic sign-up, directions and further information please visit our website: www.wendellfullmoon.org or call 978-544-8784.
The Friends of the Orange Public Library is a non-profit organization of community residents, serving the community since 1959. The Friends operate the library's bookstore, and provide financial support for the children's summer reading program, large print books, DVDs, outreach prrograms and special projects.
Come support a great cause, dance and share wonderful community in Wendell.