The Gaslight Tinkers Will Move Your Feet And Intrigue Your Mind
Saturday, APRIL 22, 2017 7:30 p.m.
$6 – $15 (978) 544-8784
(to benefit the Friends of the Wendell Free Library)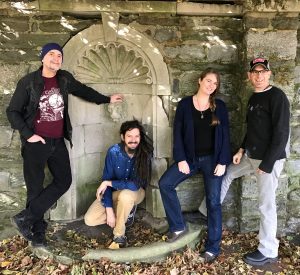 The Gaslight Tinkers shake the stage with traditional melodies and contemporary grooves from around the world. The band's afro-pop, funk and reggae rhythms create a powerfully danceable sound to elevate traditional New England, old time and celtic fiddle music, merging boundless positive energy with melody and song. Since its formation in 2012, the band has lit up New England from clubs and live radio to major festivals and barn dances.
Friends of the Wendell Free Library
http://www.wendellfreelibrary.org Join the "Fishing Party" win this fine painting in a benefit raffle for the Wendell Free Library an original work by Wendell's own famed artist, writer, naturalist Bob Ellis (28"x22" including frame, on view at the library) Tickets $2 each, 6 for $10 at the Wendell Free Library and the April 22 Full Moon Coffeehouse The winning ticket will be drawn on Saturday eve, April 22, by Bob's brother, Joe Ellis, at the Full Moon Coffeehouse — don't miss it! All proceeds to benefit the Wendell Free Library.
The Wendell Full Moon Coffeehouse is located in Old Town Hall in the center of Wendell, MA., offering a lively night out for music, fun and dance; always in support of a good cause. Come experience the Valley's only Dessert-O-Rama in an affordable family-friendly venue.
Open Mic begins at 7:30. For Open Mic sign-up, directions and further information please visit our website: www.wendellfullmoon.org.