The Wendell Full Moon Coffeehouse kicks off its 31st season with Geoff Bartley world-class guitarist, brilliant songwriter and the prophet and spiritual godfather of the Boston folk scene
Saturday, October 15, 2016 7:30 p.m.
$7 – $15 (978) 544-8784
to benefit Community Network for Children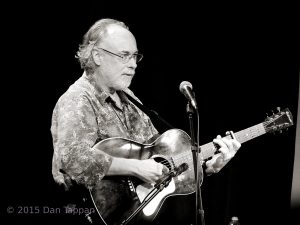 Geoff Bartley is a folk-blues guitar player singer-songwriter and recording artist, whose last two CDs, 2009's "Put the Big Stone Down" and 2011's "Mercy for the Dispossessed" hit no. 1 on folk radio. In the 1980s, Geoff won four guitars at the National Fingerpicking Champion-ships in Winfield, Kansas. Some of his songs have been recorded by other artists in New England, Canada, Ireland, and Nashville, and some are included in the Smithsonian Folkways Recordings of the Fast Folk Musical Magazine collection in Washington, D.C. Since 1994 Geoff has played regularly with Tom Paxton and presents two nights of acoustic music every week at the Cantab Lounge in Cambridge, Massachusetts. Songs he has written have been used on the History Channel, Animal Planet, the Learning Channel, the Discovery Channel, the National Geographic Channel, NOVA and Nature on PBS and other cable networks, in private and commercial films and documentaries, and in private and commercial advertising in the US and other countries.
The Community Network for Children Program supports families by acting as a hub to provide information, support, literacy opportunities, and family engagement programs within the communities of Erving, Leverett, New Salem, Wendell, and Shutesbury. Come take part in our programs and play, read, and meet up with new and old friends. It takes a village to raise a child!
The Wendell Full Moon Coffeehouse is the longest running Non-Profit venue in New England; where Every Show is for the Benefit of Local Environmental and Service Organizations.
The Wendell Full Moon Coffeehouse is located in Old Town Hall in the center of Wendell, MA., offering a lively night out for music, fun and dance; always in support of a good cause. Come experience the Valley's only Dessert-O-Rama in an affordable family-friendly venue.
Open Mic begins at 7:30. For Open Mic sign-up, directions and further information please visit our website: www.wendellfullmoon.org.