Saturday, APRIL 11, 2015 7:30 p.m.
$7 – $15 (978) 544-5557
(to benefit Seeds of Solidarity)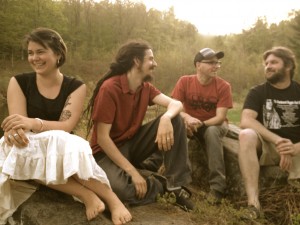 The Gaslight Tinkers shake the stage with traditional melodies and contemporary grooves from around the world. The band's afro-pop, funk and reggae rhythms create a powerfully danceable sound to elevate traditional New England, old time and celtic fiddle music, merging boundless positive energy with melody and song. Since its formation in 2012, the band has lit up New England from clubs and live radio to major festivals and barn dances.
Seeds of Solidarity Education Center is a non-profit organization in Orange, MA that "awakens the power of youth, schools, and families to Grow Food Everywhere to transform hunger to health, and create resilient lives and communities."
The Wendell Full Moon Coffeehouse is located in Old Town Hall in the center of Wendell, MA., offering a lively night out for music, fun and dance; always in support of a good cause. Come experience the Valley's only Dessert-O-Rama in an affordable family-friendly venue.
Open Mic begins at 7:30. For Open Mic sign-up, directions and further information please visit our website: www.wendellfullmoon.org.