Trailer Park Gets The Job Done
Saturday, March 7, 2015 7:30 p.m.
$7 – $15 (978) 544-5557
(to benefit the Wendell Fire Department)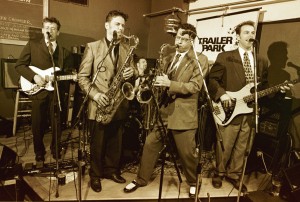 Trailer Park is a ten-legged rock and roll machine powered by the guitar, bass, drums, and twin tenor saxophones of James Robinson, Tom Mahnken, Joe Fitzpatrick, Greg Lauzon, and Rick Page.
Since 1994, Trailer Park has released half a dozen CDs and played over 800 shows throughout the Northeast- bars, clubs, weddings, bar mitzvahs, county fairs, festivals, pig roasts, you name it. They've had the good fortune to open for some great acts like NRBQ, Rat Dog, WAR, Little Feat, and Los Lobos, and even got to play two shows as Bo Diddley's backing band.
The Wendell Full Moon Coffeehouse is located in Old Town Hall in the center of Wendell, MA., offering a lively night out for music, fun and dance; always in support of a good cause. Come experience the Valley's only Dessert-O-Rama in an affordable family-friendly venue.