High Energy Dance Party From Around The World With The Pangeans
Saturday, JANUARY 10, 2015, 7:30 p.m.
$7 – $15 (978) 544-5557
(to benefit the Shutesbury Public Library)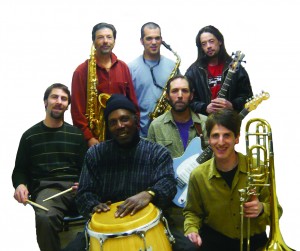 The Pangeans are a seven-piece World Music Ensemble based in New England performing Latin Jazz, Samba, Reggae, Calypso, Soca, Funk and various forms of African music.
The Wendell Full Moon Coffeehouse is located in Old Town Hall in the center of Wendell, MA., offering a lively night out for music, fun and dance; always in support of a good cause. Come experience the Valley's only Dessert-O-Rama in an affordable family-friendly venue.
Open Mic begins at 7:30. For Open Mic sign-up, directions and further information please visit our website: www.wendellfullmoon.org.