The Empty Bottle Ramblers Fill Our Cups In Wendell
Saturday, October 18th, 2014, 7:30 p.m.
$7 – $15 (978) 544-5557
(proceeds to benefit the Friends of Wendell)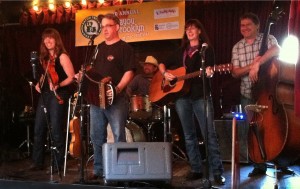 The Empty Bottle Ramblers bring their kickass sound to the stage of the Wendell Full Moon Coffeehouse this month and we're shining up our dancing shoes. Self-described as Cajun Music Strictly Handmade, the Ramblers drive you to the dance floor with accordion, fiddle, vocals, guitar, and stand-up bass. An autumn evening in our vintage hall, located on the Wendell Town Common, is the perfect setting for a foot stomping accordion two step and a turn around the dance floor to an old style Cajun waltz!
The Wendell Full Moon Coffeehouse is located in Old Town Hall in the center of Wendell, MA., offering a lively night out for music, fun and dance; always in support of a good cause. Come experience the Valley's only Dessert-O-Rama in an affordable family-friendly venue.
Open Mic begins at 7:30. For Open Mic sign-up, directions and further information please visit our website: www.wendellfullmoon.org.