March 14, 2020 7:30pm
$6 – $15 (978) 544-5557
To benefit the Friends of the Erving Public Library
Dance to the the irresistible sounds of Southwest Louisiana.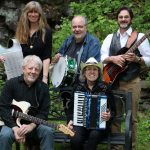 Zydeco Connection has been bringing the irresistible sounds and infectious rhythms of zydeco from Southwestern Louisiana to New England since 2004. Dominated by the button or piano accordion and a form of washboard called the rubboard, zydeco is guaranteed to get your toes tapping. We are from Franklin County playing a spicy mix of zydeco, waltzes, two-steps, blues, and boogie woogie. We pay tribute to all the great musicians who continue to preserve, define and expand the music of rural Louisiana. Zydeco has it's origins in Cajun music incorporating the sounds of Rhythm & Blues, adding electric guitar and bass and drums to get it's unique blend of driving rhythms creating a music you have to dance to. In fact there's a dance step called the zydeco and people often refer to going to the dance as going to the zydeco.
We play in western Massachusetts, Connecticut, Vermont and Rhode Island. We've played at The Charlemont Inn, The Relay for Life, The Harwich Fair, The Franklin County Fair, The Energy Park, The Pushkin Gallery, Starry Starry Night in Orange, Katrina Benefits at the Energy Park and the Grange in Greenfield, Yankee Doodle Days, the Charlemont home-town fair, the Franklin Cooperative 30th Birthday Party, the Green Trees Gallery Mardi Gras Party, St. Kaz Banquet Hall, Harvest Moon Jam Columbus Day Weekend, Ashfield Town Hall, PACE (Performing Arts Center of Easthampton), Greenfield Winter Carnival, GCTV Masquerade Ball at the Greenfield Grille, Deja Brew, the Rendezvous, The Hartford Community Dance, Burrito Rojo, Green Emporium, The Blind Pig, The North Quabbin Garlic and Arts Festival, Northampton Arts Night Out, The Franklin County Fair, Winterland, Mocha Mayas, Holyoke Winter Carnival, Boston Zydeco, private parties and weddings.
WE LOVE TO GET YOU DANCING!!!
Lil' Cyn on accordion,
David Leblanc on bass/vocals,
Michael Rose on drums,
Eileen Almeida on lead vocals/rubboard,
Roland Lapierre, Lawrence Ochs on guitar
The Wendell Full Moon Coffeehouse is located in Old Town Hall in the center of Wendell, MA., offering a lively night out for music, fun and dance; always in support of a good cause. Come experience the Valley's only Dessert-O-Rama in an affordable family-friendly venue.
Open Mic begins at 7:30. For Open Mic sign-up, directions and further information please visit our www.wendellfullmoon.org.