to benefit Launchspace at the Orange Innovation Center
Saturday, September 14, 2019
7:30 p.m. Wendell old town hall 6 Center Street Wendell,Ma
$6 – $15 Cash only please (978) 544-5557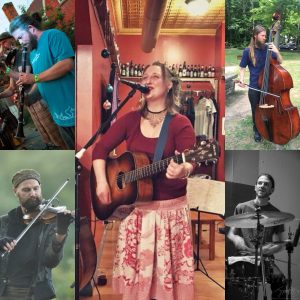 Lunar Carnival is a magical blend of Soulful harmonies. This is the sound of a variety of instruments dancing within clever composition. It all adds up to an amazing sonic experience of music for the heart!
At the core is singer/songwriter/guitarist Katerina Korolov and bassist/vocalist Daniel Grip. They've played oceans of music together, under many moons. Katerina's heartfelt songs are the nucleus of the sound, with lyrics that can evoke an inspiring feeling in people from all walks of life. Daniel adds a solid foundation of musical accompaniment with upright bass and vocal harmonies. On top of that is a whirlwind of instruments played by talented musicians who each bring unique skills and stylings to band.
Some of the other key performers you're likely to see at a Carnival show are: Johanna Dun-Jones (cajon/percussion, vocals), Steve Yarbro (clarinet, saxophone, vocals), Brian Bender (trombone, melodica), and Alex Korolov (violin). This list is by no means all-inclusive as the band regularly shares the stage with a variety of talent. When the Carnival rolls into town, you may find some local musicians sitting-in on instruments ranging from strings to brass.
All of this comes together to form an energizing and inspiring Bohemian sound. The bands many influences include the Gypsy Life, the Middle Ages, Classical, Southern Soul, Roots Rock and Soul Ska. Ultimately, Lunar Carnival is a unique Gypsy Americana band.
The group just finished a new recording "Once Upon A River…" which truly transcends the genres. It's an eclectic blend of songs utilizing a wide array of instrumentation and arrangement. It's catchy enough to be accessible, with enough depth to listen to again and again. The album consists of many of Katerina's finest songs written in recent years, decorated with dazzling musical performances, and sealed with some thoughtful production. The band is very proud of this work and hopes to share it and bring enjoyment to a wide audience.
Live, the band is at home in a listening room, festival stage, cafe, bar, party, campfire, dining establishment, your living room…, etc. The music is versatile enough to reach all audiences and the performance is capable of keeping a crowd spellbound for the whole night. Their flexibility in instrumentation, combined with an emphasis on improvisation, ensures that the live show will bring fresh versions of the songs to light.
The band is currently centered in Western Massachusetts, after previous residencies in Ithaca, NY and Floyd, VA. They've toured and played many live shows since forming in 2011, and left audiences riveted from New Orleans, LA to Burlington, VT. They're experienced musicians who have developed a charming chemistry that shines bright from the stage.
Come one, come all! Experience Lunar Carnival's interesting, appealing, original sound. This is music from the heart, for those who want to feel.
https://www.lunarcarnival.com/
LaunchSpace is a 501(c)(3) non-profit, member-based makerspace located in the Orange Innovation Center. We provide tools, equipment, education, and support to makers who don't have space, money, or time to create their own workshop.
http://www.launchspace-orange.com
Celebrating thirty five years, the Wendell Full Moon Coffeehouse is the longest running non-profit venue in New England; where every show is for the Benefit of Local Environmental and Service Organizations.
For Open Mic sign-up, directions and further information please visit our website www.wendellfullmoon.org. Or call (978) 544-5557.