December 15, 2018 7:30pm
$6 – $15 (978) 544-5557
To benefit the Community Network for Children a Grant funded program to support families and educators with young children in Erving, Leverett, New Salem, Shutesbury and Wendell.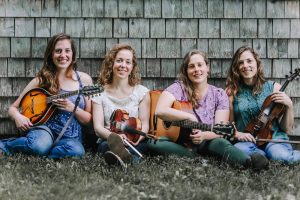 Sprouting from a small farm in rural Massachusetts, the Green Sisters have had a deep love of music from birth. They've been playing venues in Massachusetts and New Hampshire regularly for three years and have garnered quite the following. It's hard not to smile when treated with their tight harmonies and high energy tunes; they bounce their jovial banter around the stage as only siblings can!
The four gals get together to play as often as they can. They revel in each other's company, and jump easily from bluegrass to barbershop to blues to Celtic to originals of all styles. The Green sisters are:
Melody Green, vocals, mandolin, guitar
Betsy Green, vocals, fiddle, banjo
Brie Green, vocals, fiddle, upright bass, guitar
Beck Green, vocals, guitar, fiddle
The Wendell Full Moon Coffeehouse is located in Old Town Hall in the center of Wendell, MA., offering a lively night out for music, fun and dance; always in support of a good cause. Come experience the Valley's only Dessert-O-Rama in an affordable family-friendly venue.
Open Mic begins at 7:30. For Open Mic sign-up, directions and further information please visit our website: www.wendellfullmoon.org.