Old Flame brings Psychedelic Indie Rock to the Wendell Full Moon Coffeehouse
Saturday, November 17, 7:30 p.m.
$6 – $15 (978) 544-5557
style="text-align:center;">To benefit the Wendell Meetinghouse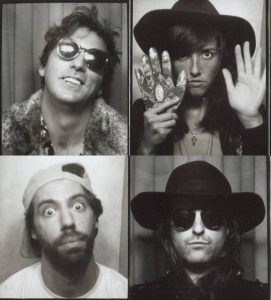 Old Flame is a machine of resistance. Born in the Western, MA, DIY scene, the indie-rock band spins grit and honey-rasp vocals into a psychedelic post-punk nostalgia with an afterglow of raw blues. Old Flame is comprised of Emma Ayres (Emma June), Sam Perry (Dios Trio), Ken Birchall (Eric Culberson band), and Nate Mondschein (The Rooks).
Since forming in 2017, Old Flame has been nominated by The Deli Magazine as "New England Artist of the Month," and released "Wolf In The Heather EP." The album documents the rise of the Trump presidency, and was lauded by The Valley Advocate for its "acid-tongued lyrics that rail against corporate capitalism and capture the spirit of proto-punk in a bottle; a rollicking anarchistic flair for damning it all to hell." In the words of "Ear To The Ground Music": "Love this sound, retro and brand new all at the same time. Toes the line of vintage & psych rock. Addictively good."
Old Flame recently completed a cross country tour to Red Gorilla Music Festival, Austin, TX, and released their second EP, "Hush Money," which debuted at The Parlor Room in Northampton, MA, on March 27th. https://www.oldflameofficial.com
The Wendell Full Moon Coffeehouse is located in Old Town Hall in the center of Wendell, MA., offering a lively night out for music, fun and dance; always in support of a good cause. Come experience the Valley's only Dessert-O-Rama in an affordable family-friendly venue.
To benefit the Wendell Meetinghouse wendellmeetinghouse.wordpress.com. The Friends of the Wendell Meetinghouse formed to preserve, maintain, and
protect the Wendell Meetinghouse, a cornerstone to the Wendell Town Common and Historic District.
Open Mic begins at 7:30. For Open Mic sign-up, directions and further information please visit our website: www.wendellfullmoon.org