Charles Neville Brings The Swing To Wendell
Saturday, November 21, 2015 7:30 p.m.
$7 – $15 (978) 544-5557
(to benefit the Wendell Fullmoon Coffeehouse)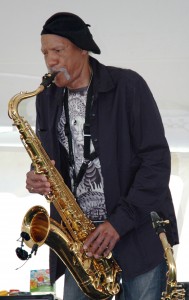 It'll be history in the making when Mr. Neville brings his swinging quintet to Wendell. Featuring "Neville Brothers North" with Khalif Neville on keys, Talyn Neville on drums, the enchanting violin of Sarah Hubbard and Mike Marida on bass. Bring a friend up to Wendell for an evening of world class jazz in the heart of small town New England.
The Wendell Full Moon Coffeehouse is located in Old Town Hall in the center of Wendell, MA., offering multi-generational co-mingling, with the one and only Dessert-O-Rama. Celebrating 40 years, New England's longest running volunteer run coffeehouse is always a benefit for a local service or environmental organization.
Open Mic begins at 7:30. For Open Mic sign-up, directions and further information please visit our website: www.wendellfullmoon.org.