Saturday, May 21st, 2011 7:30 p.m.
$6 – $15 (978) 544-5557
(Partial proceeds to benefit Citizens Awareness Network (CAN))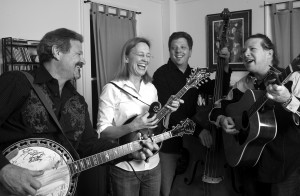 Anyone unfamiliar with barnRocket upon first listen might call them Bluegrass and more. Bluegrass purists would say great singer songwriter stuff with some Bluegrass influence. Peter Nabut, songwriter for the band likes to call it funk grass but that doesn't really cover it either. Strong song writing, is where the emphasis lies here. With instrumental prowess and a melting pot of American roots influences, a barnRocket show is bound to bring you original tastes of Cajun, Rock, Folk, Country, Funk, Bluegrass, World Beat and who knows what else. Always seeking to expand their sound this is a band in motion. With John Monthei on Banjo and Pedal Steel, Sean Kimball on Bass and vocals, Leslie King on Mandolin, Guitar and vocals and Peter Nabut on Guitar, Accordian and vocals, a night in the barn could be what you've been waiting for.
The Wendell Full Moon Coffeehouse, always benefiting local organizations, is located in Old Town Hall in the center of Wendell, MA. Coffeehouse shows offer a unique opportunity for fun in support of a good cause and the Valley's only Dessert-O-Rama in an affordable family-friendly venue.
Open Mic begins at 7:30. For Open Mic sign-up, directions and further information please visit our website:
www.wendellfullmoon.org .