Saturday, April 13, 2019 7:30pm
sliding scale admission $6 – $15
Cash only to benefit Village Neighbors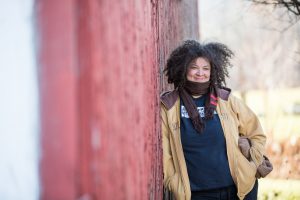 "When Pamela Means picks up her guitar and begins to sing, a listener doesn't forget her. She possesses musical attitude and purpose." – Steven Winters, WSHU Radio
"So what sets [Pamela Means] apart…? For starters, Means plays a snarling, energetic guitar. She's got chops – more than the other gentle pickers of her ilk will ever have. Means' voice is hard-wired to her heart: emotional, raw, angry when it needs to be, yet supple and warm as an embrace. The truth may not always be pretty, but Means is a stunningly effective messenger." – Oregon Live, Portland OR
Pamela Means brings a four-piece band to rock and groove the Full Moon Coffeehouse in Wendell on Sat. Apr 13! Pamela Means Project will deliver a full band set of originals and covers including, by request, many danceable tunes! Come shake your groove thang'!
With virtuosic musicianship, razor wit and a disarming sense of humor, Pamela Means is building a vibrant and remarkable career, delighting audiences from Anchorage to Amsterdam to Sydney to Stockholm to Honolulu and New York. Thrilled audience members often exclaim they've 'never seen anyone play guitar like Pamela Means!' Plus, Ani DiFranco said to Pamela Means, "you groove so deep, so deep I can't get out. And I wouldn't want to." We guarantee you won't want to either.
The longest running Non-Profit venue in New England; where Every Show is for the Benefit of Local Environmental and Service Organizations.
http://www.wendellfullmoon.org
Village Neighbors helps members by providing transportation, helping hands for small tasks at home, friendly visits and computer help.
Members call our virtual office to connect with our village call manager to arrange for a requested volunteer service. All of our volunteers are dedicated to helping seniors. You can also have access to a list of vendors for additional fee for services vendors. The fact that Village Neighbors is completely member/volunteer run allows for a reasonable annual fee. Subsidized memberships are available where there is a need.
Village Neighbors launched on October 15, 2018. We are a member of the Village to Village Network, linking it with over 200 open Villages and more than 150 Villages under development across the United States.
http://www.villageneighbors.org
Open Mic begins at 7:30.
For Open Mic sign-up, directions and further information please visit our website http://www.wendellfullmoon.org Or call (978) 544-5557.