Saturday, February 11, 2017 7:30 p.m.
at Wendell Old Town Hall 6 Center Street
$6 – $15 (978) 544-5557
To benefit The Swift River Historical Society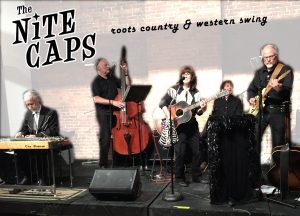 http://thenitecaps.homestead.com/
From the Pioneer Valley of Massachusetts, The Nite Caps are your one-stop shopping for good-ole time, honky-tonk country music, the kind with the all the twang still intact. This 5-piece combo is ready-made for kickin' up a ruckus, be it two-step partner dancing Texas-style or get-down jitterbug swing dancing, with a group of musicians who love to play for folks who love to shake the shack!
Tom Randall- lead guitars + vocals
Mike Pattavina- upright bass + vocals
Rich Sullivan- pedal steel guitar
BetsyDawn Williams- rhythm guitar + vocals
Jeff Potter- drums, harmonicas + vocals
http://swiftrivermuseum.org/
For over 75 years the Swift River Valley Historical Society in New Salem, Massachusetts has kept alive the story of the villages and four towns of
the Swift River Valley. In 1938 the people of Dana, Enfield, Greenwich, and Prescott and several nearby villages were forced to leave their homes, farms and businesses to allow the creation of the Quabbin Reservoir to provide clean water for the growing city of Boston to the east.
Their towns are lost, but their stories are not. By caring for the objects and reminiscences once owned or told by farmers, shopkeepers, housewives, and children, the Swift River Valley Historical Society provides a look at life in the Swift River Valley before the Quabbin honors the sacrifice and sorrow of the many who once called it home.
The Wendell Full Moon Coffeehouse is the longest running Non-Profit venue in New England; where Every Show is for the Benefit of Local Environmental and Service Organizations.
The Wendell Full Moon Coffeehouse is located in Old Town Hall in the center of Wendell, MA., offering a lively night out for music, fun and dance; always in support of a good cause. Come experience the Valley's only Dessert-O-Rama in an affordable family-friendly venue.
Open Mic begins at 7:30. For Open Mic sign-up, directions and further information please visit our website:www.wendellfullmoon.org