Get Transported To Wendell For Storytelling, Dance, Improv
Saturday, January 26th, 2013 7:30 p.m.
$8 – $15 (978) 544-5557
(Partial proceeds to benefit the Friends Of Wendell)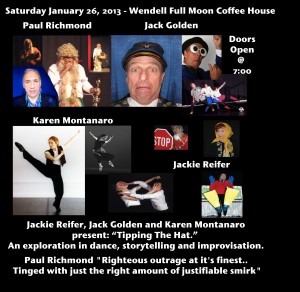 Settle in and get cozy for theater night at the Wendell Full Moon Coffeehouse. If you're up for some laughs and for being transported by movement, words, emotions and creativity then this is where you want to be on Saturday night. Jackie Reifer, Jack Golden, and Karen Montanaro present: "Tipping The Hat." An exploration in dance, storytelling and improvisation. Paul Richmond will join them, his work on stage has been described as "Righteous outrage at it's finest.. tinged with just the right amount of justifiable smirk." Bring a friend, get surprised.
The Wendell Full Moon Coffeehouse is located in Old Town Hall in the center of Wendell, MA., offering a unique opportunity for music, fun and dance; always in support of a good cause. Come experience the Valley's only Dessert-O-Rama in an affordable family-friendly venue.
Open Mic begins at 7:30. For Open Mic sign-up, directions and further information please visit our website:
www.wendellfullmoon.org (978) 544-5557