Trailer Park Set To Raise A Ruckus In Wendell
Saturday, January 14th, 2012 7:30 p.m.
$6 – $15 (978) 544-5557
(Partial proceeds to benefit the Wendell Volunteer Fire Department)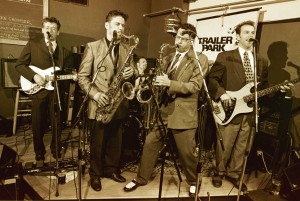 Trailer Park is bringing their signature brand of 'barbecue rock' up to Wendell to heat up the dance floor with a ten-legged rock n' roll machine, featuring guitar, bass, drums, and twin tenor saxophones. Bring your dancing shoes and a friend or two. We'll raise a ruckus.
The Wendell Full Moon Coffeehouse is located in Old Town Hall in the center of Wendell, MA., offering a unique opportunity for music, fun and dance; always in support of a good cause. Come experience the Valley's only Dessert-O-Rama in an affordable family-friendly venue.
Open Mic begins at 7:30. For Open Mic sign-up, directions and further information please visit our website:


January 5, 2012 @ 5:49 pm